The Armatic platform provides flexible automatic payment processing to fit any customer billing scenario
Armatic provides multiple automatic payment processing options. You can enable any combination of the following automatic payment types:
Account level auto pay - An automatic payment schedule for all invoices on an account
Subscription auto pay - Auto charge invoices created by the Armatic Subscription Module
Payment Plan auto pay - Auto pay schedule for invoices on an Armatic Payment Plan
Progress Billing auto pay - Enable auto pay for invoices created from an Armatic Estimate
Connect a Payment Processor
You will first need to connect to a payment processor. While Armatic will manage the payment processing rules and schedule, the connected payment processor will process the payment and store all payment information (Armatic does not save any payment information on our servers).
Connect to a payment processor, under Account>Payments
Account level automatic payments
Account level automatic payments will create a schedule to automatically charge open invoices for an account. Invoices for an account that are currently in a "Payment Plan" will be excluded from the automatic payment rules. To create an automatic payment rule for a customer, navigate to the customer detail page, then select the edit icon next to "Auto Pay"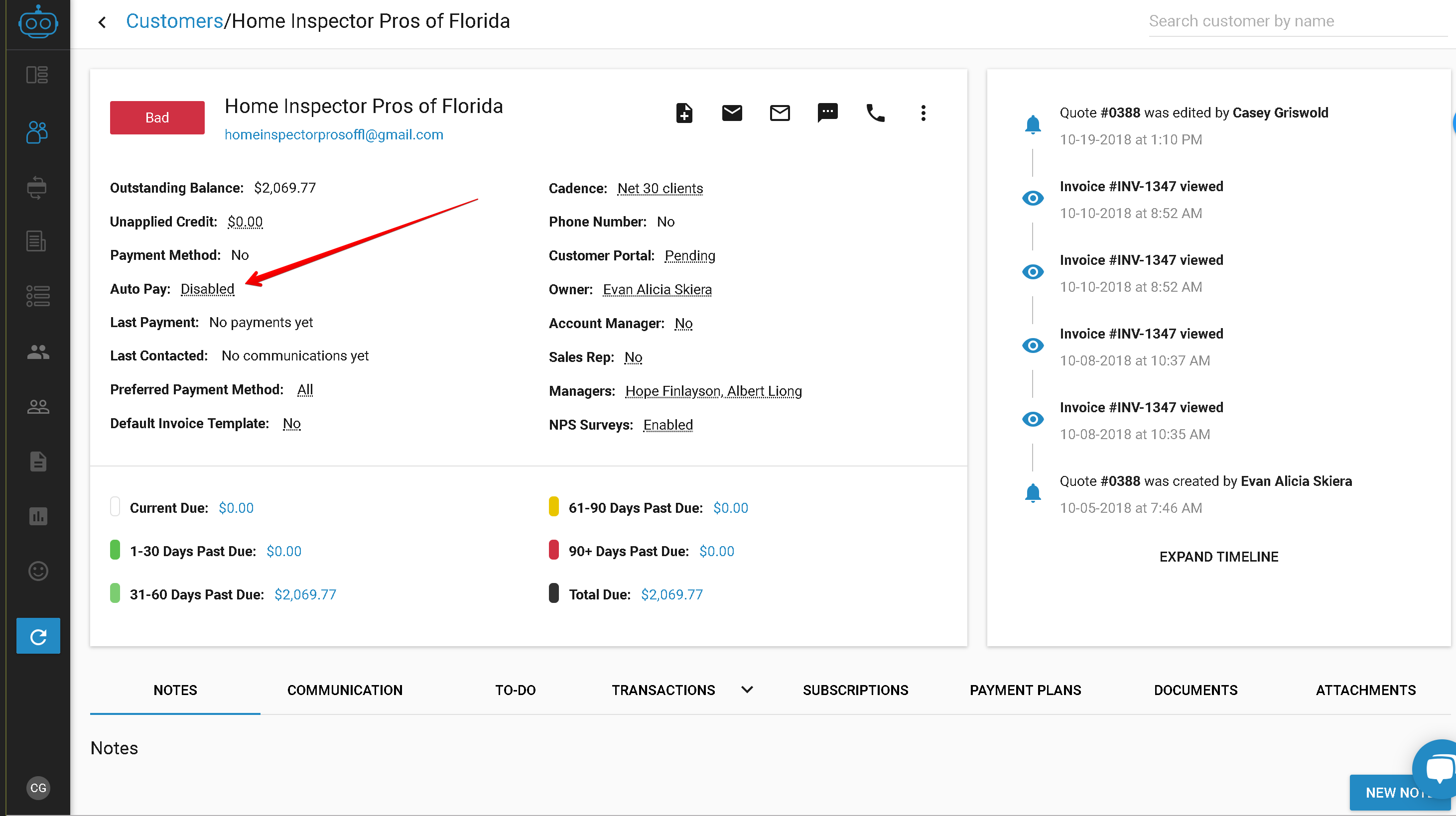 Edit the Auto Pay settings: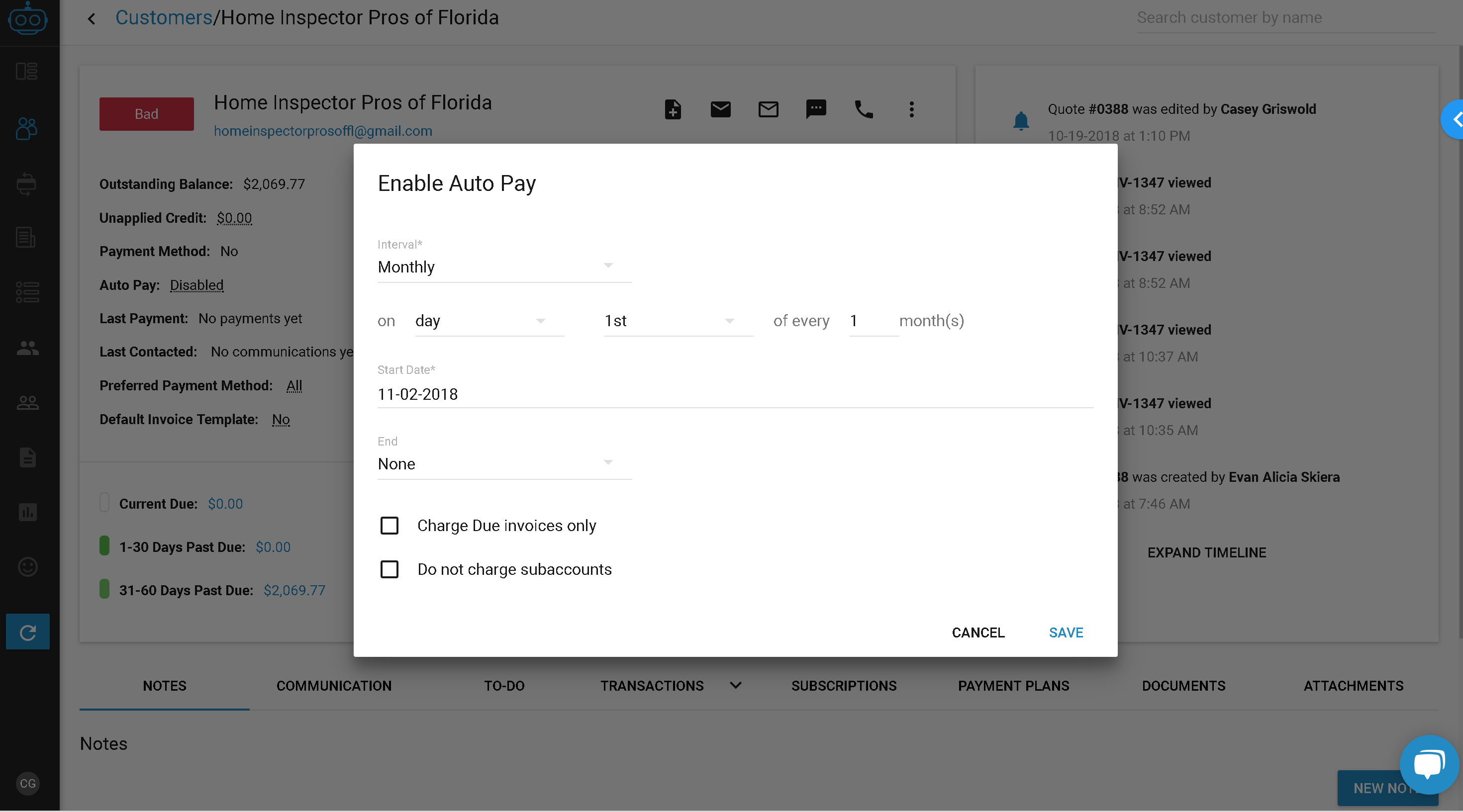 Interval - The frequency the auto pay rule will run
Start/End Date -Start or stop the auto pay rule
Charge Due Invoices Only - Charge only invoices due or past due vs, all open invoices
Do not Charge Sub Accounts - Only charge invoices for the parent account vs. both parent & child invoices
Click "Save" to finish setting up the rule. The automatic payment schedule will run in accordance with the schedule you created. When running, the auto pay system will check every 20 min to see if any invoices match the auto payment rules. i.e. if you set an interval to "Daily" it would check every 20 min for invoices to charge.
Subscription automatic payments
Enabling "Auto Pay" for subscriptions will automatically charge an invoice created from the Armatic subscription module once created. Simply select the "Auto Pay" check box at the bottom of the subscription form. Access the subscription module here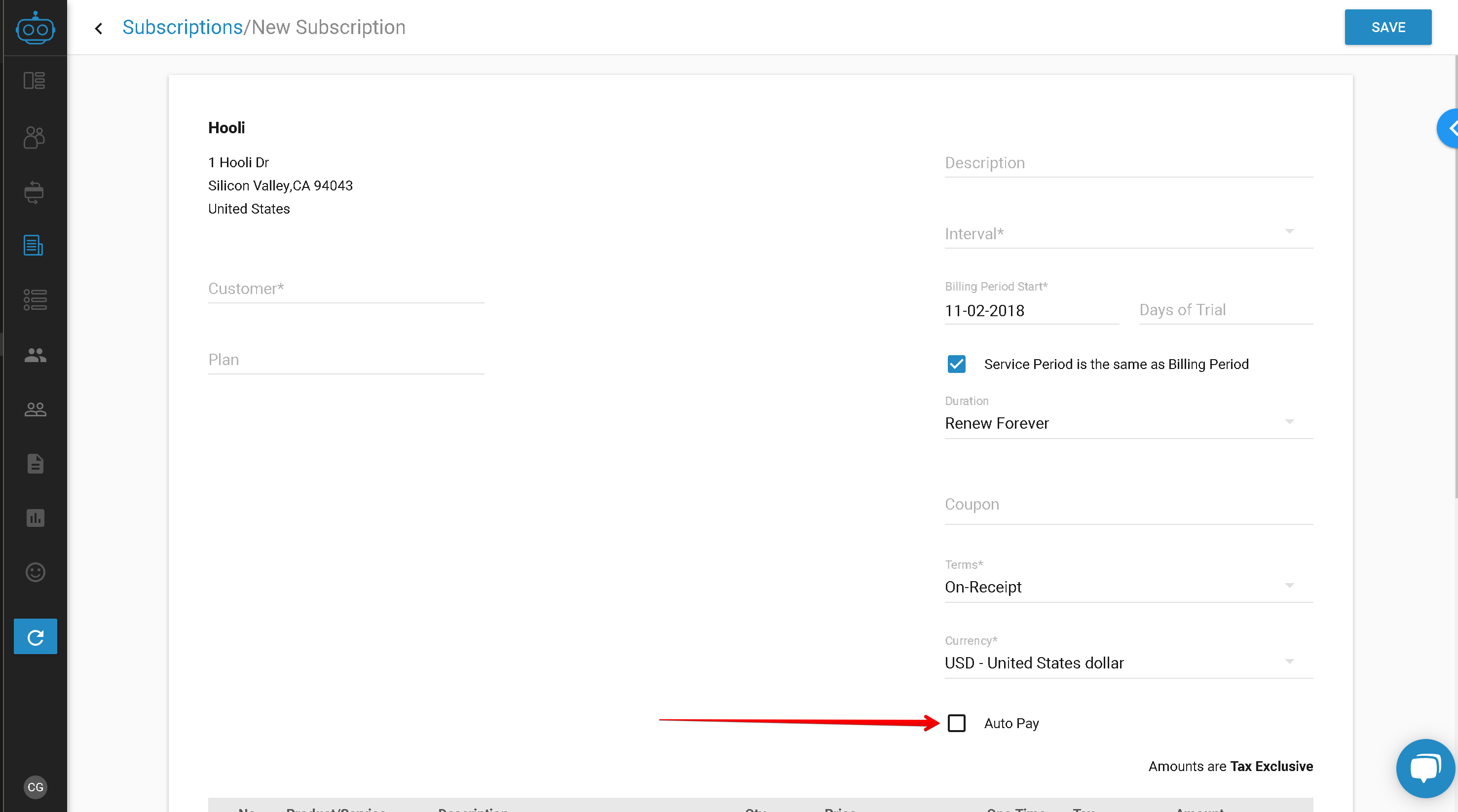 Auto pay for Payment Plans
To automatically process payments in accordance with a payment plan schedule, simply select the "Auto Pay" check box in the create Payment Plan creation form. Learn more about Payment Plans here.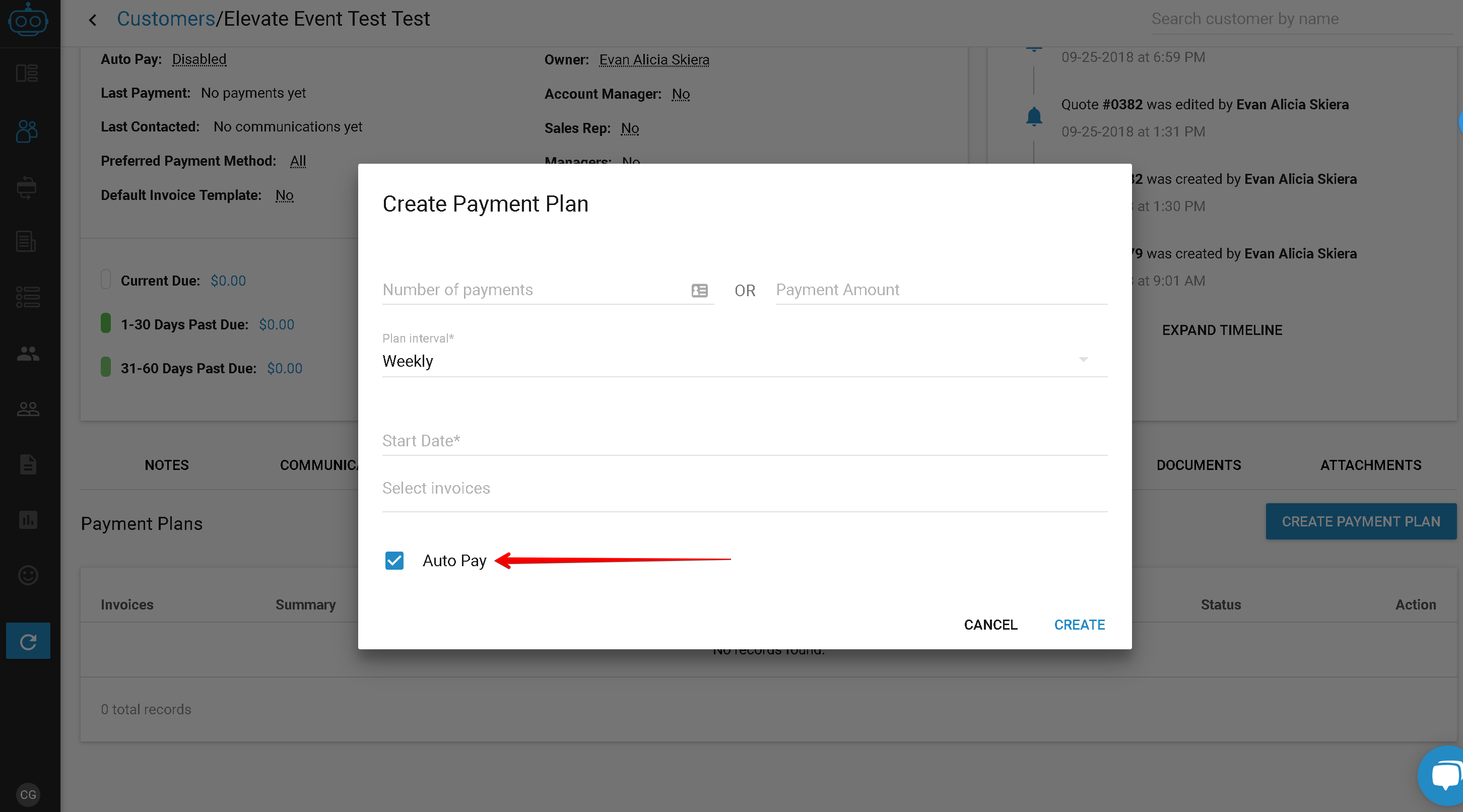 Enable auto pay for Estimates (Progress Billing)
Armatic Estimates, allow you to issue invoices based on milestones and track the progress against the original estimate. Once an estimate has been created, you can enable an automatic creation schedule, and elect to have invoices created from this schedule automatically charged. To do so, select the menu next to the estimate, then "Enable Auto Invoice" Create new estimates here.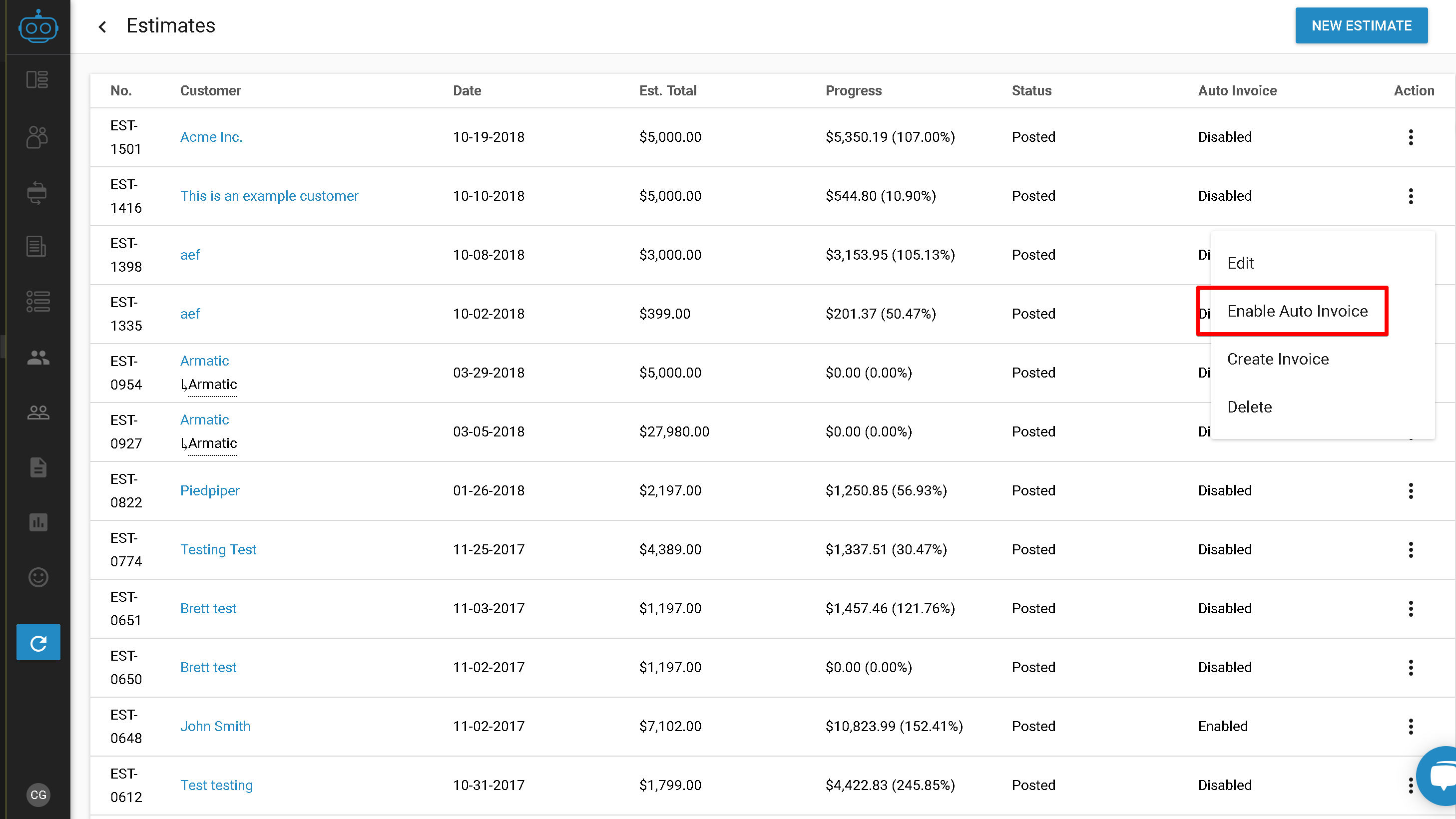 Select the auto invoice schedule and check the "Auto Pay" check box to have invoices automatically charged once created.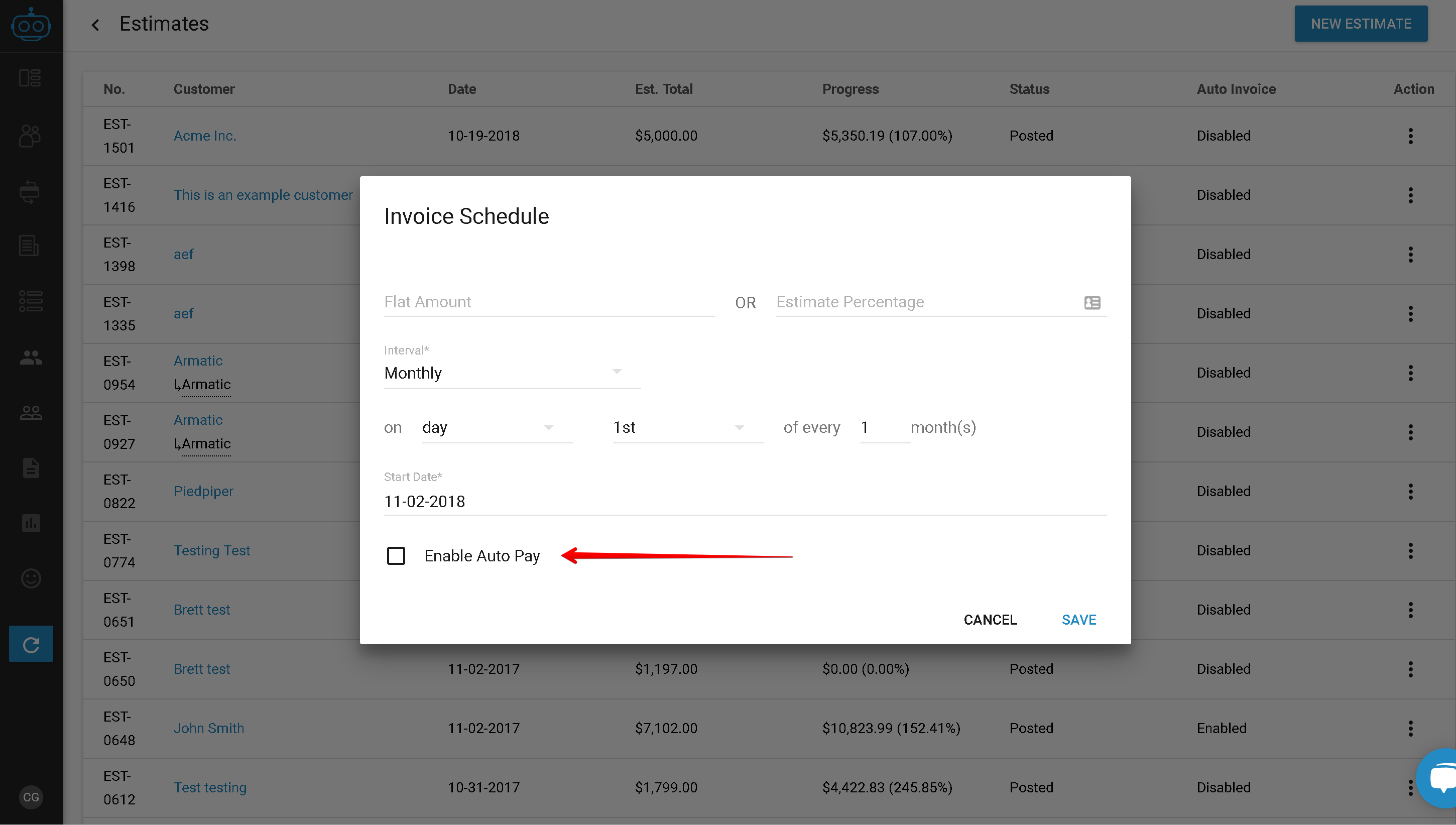 More Questions?
Look for the chat icon on the right to send us a message, email us at support@armatic.com or give us a call at (949) 424-2875.