Invite customers to an interactive customer portal for viewing invoices, statements, sharing files and making payments.
The Armatic Customer Portal provides secure access for your customers to access their billing history, statements, shared files, update saved payment methods and pay invoices/balances. Customer must be invited to the portal using one of the following options:
Invite an individual customer to the portal
Select the action menu from either the customer details or summary page
Select "Send Invitation"
Customize the portal invite email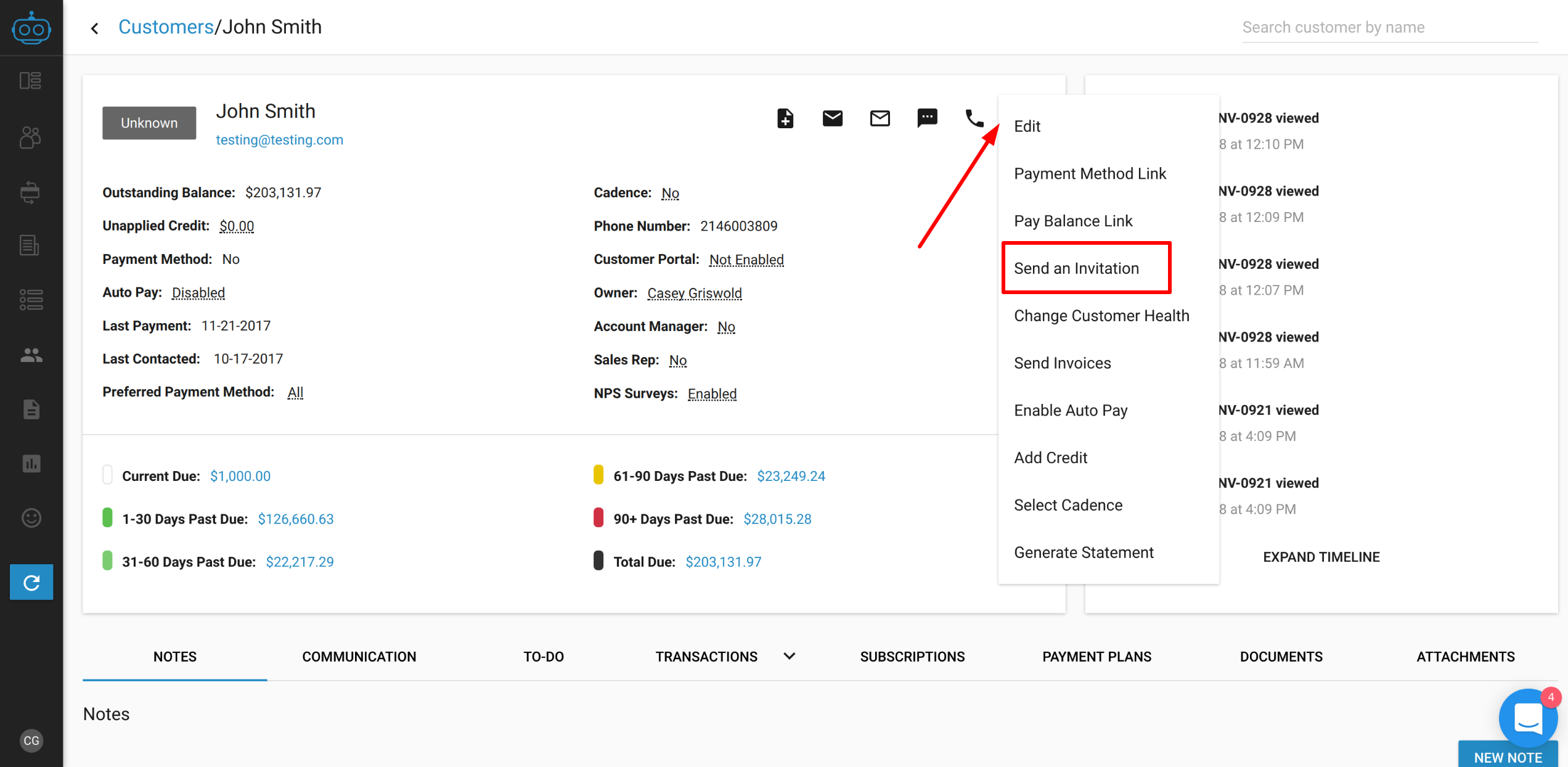 Invite group "Batch" of customers to the portal
Select the check boxes next to the customers you would like to invite to the portal, from the customer summary page
Select "Batch Actions" in the upper left corner
Select "Send Invitation"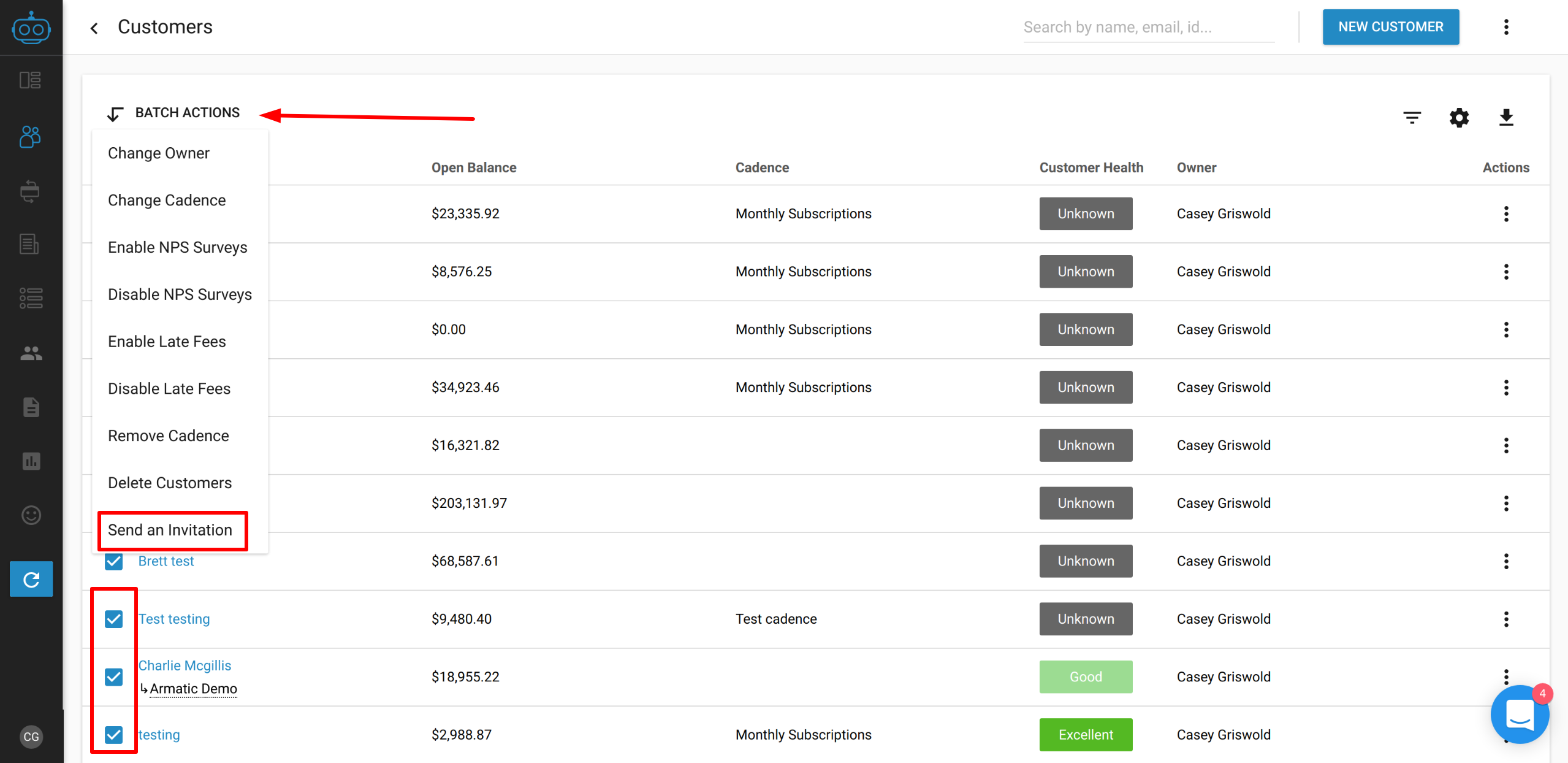 Batch actions are currently only applied to a maximum of one page at a time, please contact us via chat or at support@armatic.com to send invitations as well as apply any other changes to more than a page of customers/invoices at a time.
Invite multiple contacts from the same company to their customer portal
If more than one customer contact would like access to the portal, you can provide each with their own credentials vs forcing them to share a password. To do so, select "Edit" from the customer details page, then scroll down to the contacts section. Add a new contact if needed, then select the menu next to the contact them the option to "Enable Customer Portal". You can send this contact a invitation by selecting the contact menu again, then "Send Invitation" as well as the "Send Invitation" option from the main customer details page.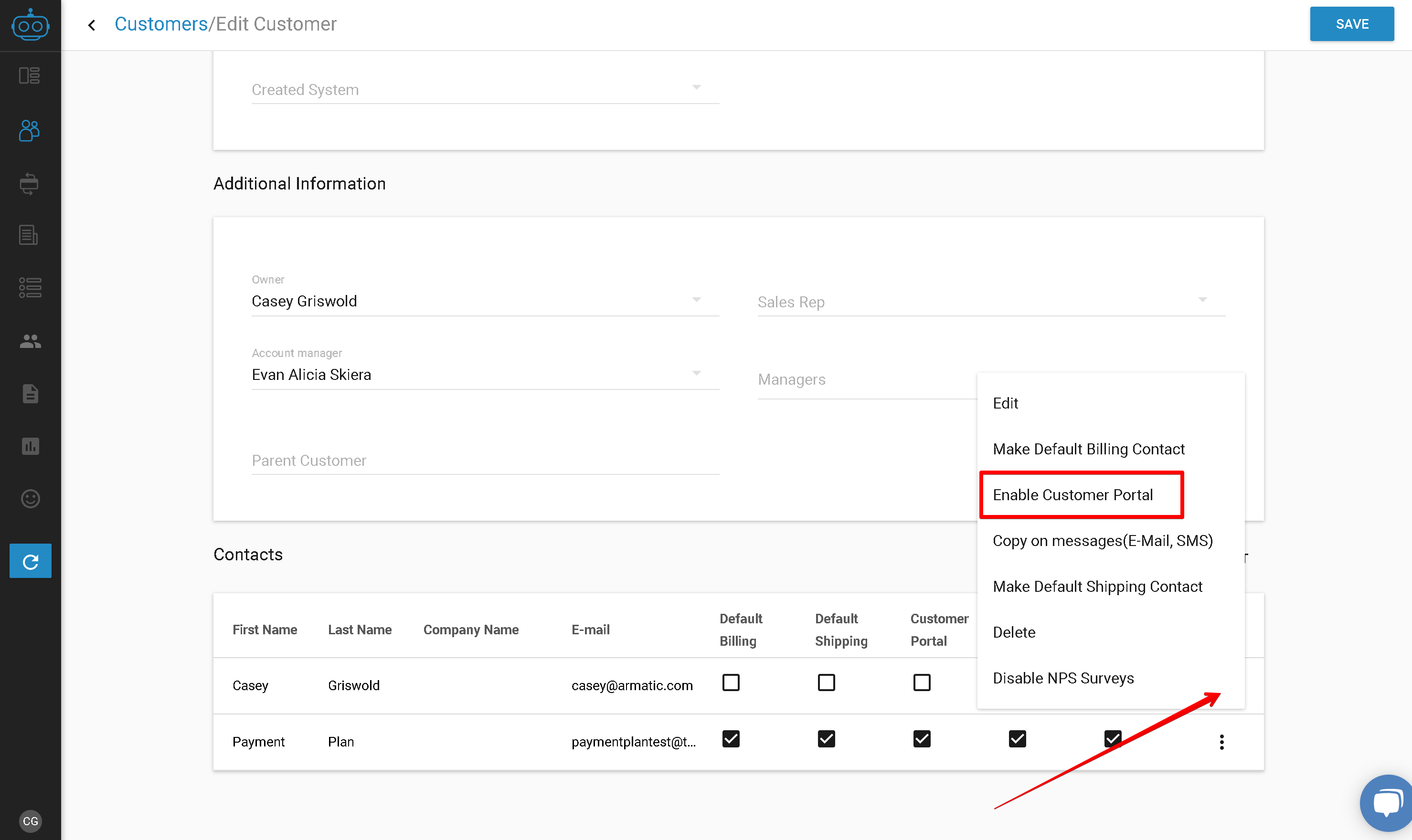 Allow customers to "Request Access" to the Customer Portal
Your customer portal is located on "sub domain" that you selected in your Company Profile. It will be (sub domain).armatic.com. For the example account below, their customer portal is located at hooli.armatic.com.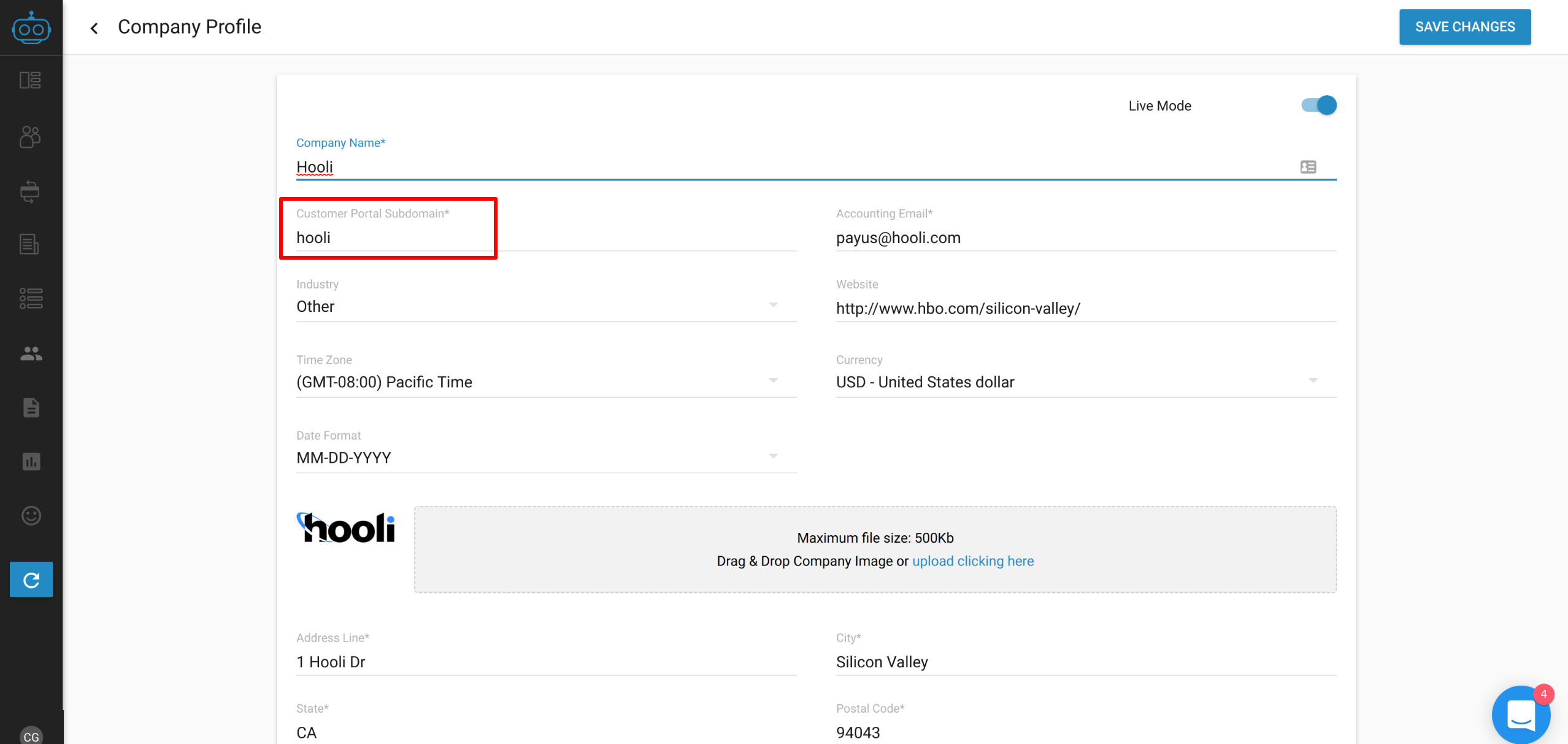 From your Customer Portal login page, customers can "Request Access" to their portal. After selecting the request access link, they will be prompted to enter their email address. If the email address they enter, matches a customer in your account, they will automatically receive an invitation to the customer portal by email.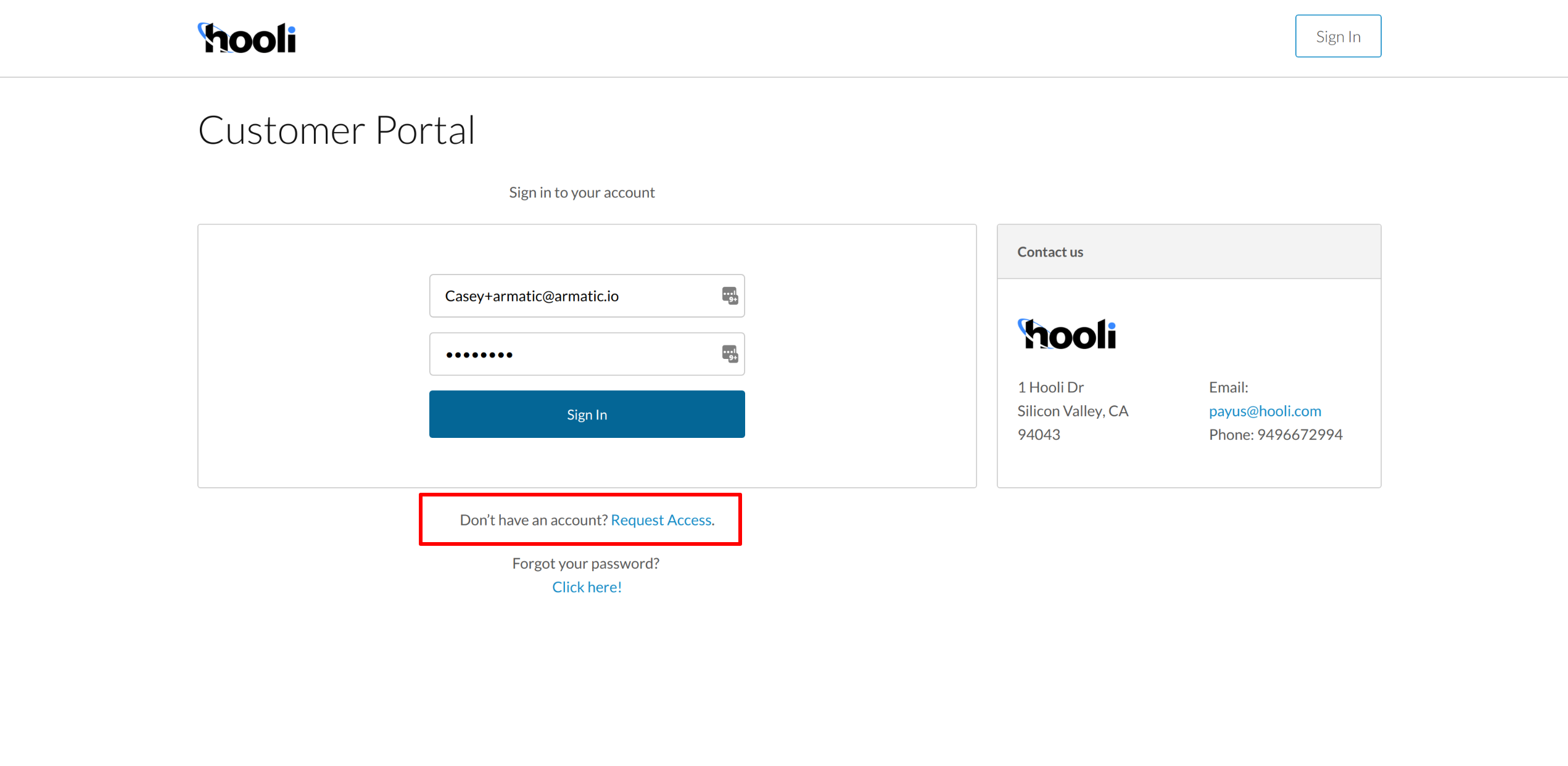 More Questions?
Look for the chat icon on the right to send us a message, email us at support@armatic.com or give us a call at (949) 424-2875.